Some of us are lucky to work in cash-rich companies. Our job is to take care of the orders and deliveries, and the bills get paid automatically at the due date. Some struggle due to lack of cash.
Procurement professionals need to have at least the basic knowledge about finance, to be able to understand the "why" behind the requests finance makes
Let us start with a couple of related definitions:
Insolvency
A company is insolvent if its debt is larger than its receivables + assets. In other words, if the company sell all its assets and stock and collects all money owed, still it can't pay all bills. This company is in fact bankrupt and only surviving due to support from suppliers.
Iliquidity 
A company is not liquid if it does not have enough cash to pay due bills. It can be a very profitable company with solid long term financial health. At the moment, it gives out more cash than it receives. This happens either due to earlier payment to suppliers, or delayed payments from customers. Or both. But in general, illiquid companies are not by default bad.
A company can be solvent but not liquid, which in simple words means that it's not able to collect its receivables quick enough.
While the job of sales is to get the money in fast, the job of the Supply Chain is to reduce the stock of items in the company and to pay as late as possible. Below is the Cash cycle, let us explore what it means and how the Supply Chain can help the business: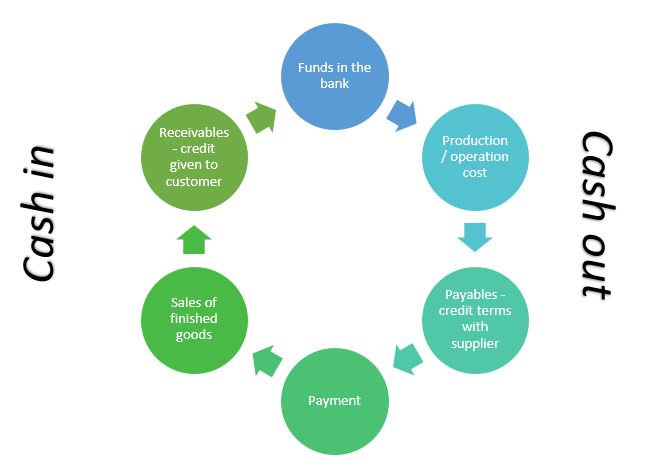 Funds in the bank
Cash in the bank is the first step. The funds are there, and our goal is to have as much as possible sitting there at any point
Production / operations cost
Production/operation cost includes all costs that we have to pay irrespective of the production process: rent, salaries, taxes, utilities. Supply Chain tends to always push for a bigger and better warehouse and more people. But this means more cash going out that we could use in a more efficient way in other parts of the business.
Payables
Payables are seriously affecting procurement. But also, procurement can help with payables by managing them in the right fashion. The job of procurement here is to buy only what is needed when it's needed and in sufficient quantity. Also, raw materials should be converted into a finished product and sold before the payment is due. This is one of my favourite KPI's to measure inventory management efficiency. This KPI is affected by several factors. The first one is proper inventory analysis and planning. Second is proper Sales & operation planning, which results in having the right stock to run the planned production. And third is raw materials delivery planning.
Payment
Payment is the process of funds changing hands. In situations where the funds are insufficient to pay all due bills, procurement needs to get involved. Based on future purchases, relationships with suppliers and potential legal problems, procurement helps in creating the payment plan. I was unfortunately in this position in several companies. The strategy I would suggest is transparency. If your payment will be 15 days late, tell this to the supplier. But then make sure it is paid on the promised date. Some suppliers will disagree with this way of doing business and leave. But many will stay. They calculate the lost sales vs. delayed payment opportunity cost. If it makes sense, they will keep supplying.
Sale
Sales of finished goods seem to be something not connected with the Supply Chain. Not really. The finished goods warehouse and often the shipping to the customer is a part of the Supply Chain. Our job is to make sure the goods reach the customer as fast as possible and without any damage. I mean, for example, think what made Amazon so great. They were not the first. Probably not the best in everything. But they were the fastest in delivering to the customer. First to offer next day, and later same-day delivery.
Receivables
Receivables are the part where we get our funds from the supplier. Take a look at them from time to time. Many companies are part of a very diverse group. Can get some goods from a sister company instead of getting paid?
As you can see, the Supply Chain can contribute a lot to the healthy cash cycle of the company. We have to look beyond our day-to-day role and understand how our activities affect this part of the business. This is the part where Supply Chain moves from a transactional into a value-adding position in the business.