Having built and worked towards iDeliver Framework, I have made a lot of transformation in my life, work, relationship, health. The objective is not about doing things; however, it is about doing things right, and similarly is the case with buying. I built this framework because I feel there is much more than hard work or smart work alone, leading to victory.
Applying the iDeliver framework in life, anything can be achieved with contentment and personal or professional victory. Anytime we feel there is a need for something that can be useful, we should 'INITIATE'; maintaining necessary discipline.
What is 'discipline'? In one word, I call it 'fear.' For example, Fear of bankruptcy, hence we should have discipline in spending and buying habits…     Fear of failure; hence we should practice…. Fear of loss, hence necessary controls to be in place….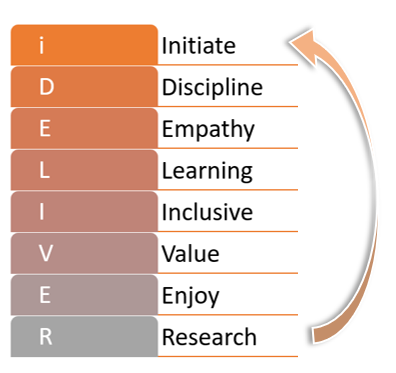 'Empathy' plays a critical role in every relationship today, which is an ability to understand or feel what other person is experiencing from within their frame of reference, which may include caring and/ or desire to help/ support.
'Learning' is very important in life, especially in such a dynamic environment of today.
"Once you stop learning, you start dying"

Albert Einstein
Have always seen the pricing of various products, reflecting on the packaging 'inclusive' of all charges and taxes. This means to avoid excluding any party of a group involved in something noting everyone is important and has a role to play.
'V' could also have been utilized for versatile, vigilant, or visionary, but I did not want to consider specific qualities in someone, while these may also not be in every human being, which would have defeated the purpose of universal acceptance. Hence I selected 'value', which everyone can contribute based on their available skillsets, capabilities and possibilities.
Beginning with initiating something, delivering it with discipline and empathy, trying to learn, being inclusive, and delivering value. So it is now time to reward yourself. Although we should 'Enjoy' in every phase of life, whether at the beginning, during the journey, or at completion, whether after winning or losing, but we must enjoy the journey.
Upon completion and rewarding phase is the 'research' phase and moves on to another journey. There could be many journeys' in parallel that can run in life, in projects, work, and relationships. After the research stage, the lifecycle is back to the starting stage of 'initiate,' and it never ends.
One of my experiences practising Ideliver, in particular, has been working on Strategic Initiatives with stakeholders.
With the intent and proper identification, have worked to Initiate several projects with proper planning, Discipline considering the fear of failure, loss, cost impact. Worked with a few people supporting them with all the necessary guidance, tools and support in their respective work, especially during their emotionally challenging times (Empathy). Strategic initiatives require a lot of knowledge to ensure good results for which it is important to continue Learning at all times and take decisions based on analysis. Being inclusive is an important aspect when working on anything in a team since everyone is important and has a role to play basis which bring Value to the project and team. Success doesn't come easy, so when it arrives we must celebrate and Enjoy this occasion being in moment as post this we will be required to Research further and start fresh to Initiate new projects.
About the Author
 Faiq Ali Khan is a Procurement Enthusiast specialized in Strategic Sourcing, Supplier Management, Technology and Non Technology Procurement portfolios. Member of CIPS Branch Committee, having proven track record of successfully managing professional teams and achieving results with focus on strategy execution, digitization, transformation, demand management, process improvement, quality assurance, personal life cash flows management, investment diversification, planning and budgeting, road to content life and guiding how to become cash rich with available resources.
'Art of Buying' book is now available globally on many e-stores including: